Our Two Cents
First Western Canadian Salute to Women Behind the Wheel Honors Female Drivers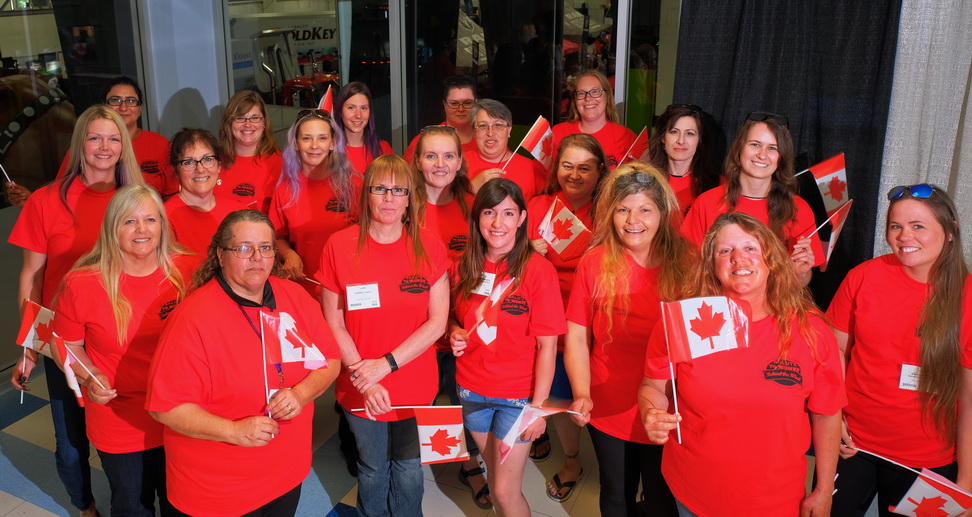 ABBOTSFORD, BC (May 12) -- Twenty-four women drivers made history on May 12 by coming together for Canada's first Salute to Women Behind the Wheel held in Western Canada.
The Owner-Operator's Business Association of Canada (OBAC) and the Women's Trucking Federation of Canada (WTFC), along with the B.C. Trucking Association (BCTA), partnered with Women in Trucking (WIT) to honour female commercial drivers and thank them for what they do.
The event has been held annually in the U.S. by WIT during the Mid-America Trucking Show in Louisville, KY since 2009. OBAC and WTFC have partnered with WIT to host a total of four salutes in Canada since 2016, with a view to bringing the popular celebration to Canada on a regular basis.
During the event, Dave Earle, president and CEO of the BCTA, encouraged those being recognized to talk to other women and mentor those who might be looking to enter the world of trucking.
"Hold your hands up and be that example women want to talk to," said Earle.
Earle said coming from a construction background he was well aware of the struggles to get more women into the trucking industry.
Joanne Ritchie, Executive Director of OBAC, said the groups collaborating in bringing the Salute to Canada share a common goal of encouraging more women to enter the industry, while celebrating those who have chosen commercial driving as a career.
Combined, the women boasted 232 years of driving experience. Several of them have been behind the wheel for more than 25 years, although more than half have five or fewer years' experience, an encouraging sign that more young women are turning to trucking as a career choice.
A hallmark of the event is a group photo of all the women who hold commercial drivers' licenses wearing the signature red Salute T-shirt. Ritchie called the display an attention-getting way to illustrate women's presence in the male-dominated trucking industry.
"If we want to help women get excited about transportation as a career choice, we have to show them women out there working and succeeding in the industry, and dealing with the lingering perception that transportation jobs are for men," said Ritchie, adding that the women being recognized will inspire and encourage 'generation next' to join the industry, demonstrating, by example, that women drivers can thrive and enjoy a career behind the wheel.
Sponsors of the 2018 Salute to Women Behind the Wheel included CarriersEdge, Sysco, the Private Motor Truck Council of Canada (PMTC), Highland Transport and SM Freight.